Getting to Know Chiangrai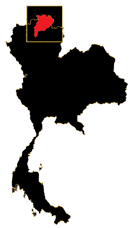 Land and Nature
Geographically speaking. Chiang Rai marks the northernmost borders of Thailand . Several natural walls of high mountains surround it and separate it from Myanmar and Laos , our neighbors to the northwest and the northeast. These mountain ranges are extensions of the Himalayas and some ranges in the Chinese region of Yunnan , which spread down to the basins of the Kok-Ing-Lao River .

90% of the whole area of Chiang Rai comprises high mountains. Some are as high as 1,500 meters above sea level, especially those along the Phi-Pan-Nam Mountain Range which come down from Daen-Lao Mountain in Chiang Mai, stretching to meet Luang Prabang Mountain from Nan Province . Mt. Langka is its highest peak at the height of 2,030 meters. Chiang Rai, therefore, can boast of being the motherland of several important rivers that are the lifelines of the north. These include Kok, Ing, Lao, and Sai Rivers . Of these, Kok is the most important because it runs through the city of Chiang Rai .
| | | |
| --- | --- | --- |
| Tropical montane forests are on top of over-1000-meter mountains. The moist climate allows moss, fern and lichen to thrive. Pine forests can be found sparsely on area mountains as well. Along the riverbanks are wet tropical while mixed deciduous and dry dipterocarp forests can be found in semi-arid area with some teak trees. | Some unspoiled forests have been included in preservation areas, such as Doi Luang, and Khun Chae National Park , as well as Khun Kon Botanical Garden . These forests are sourced of Chiang Rai waterways and their fauna. Many beautiful waterfalls originated in this areas such as Khun Kon and Pu Kaeng. | In Nong Bong Khai Sanctuary in Amphoe Chiang Saen live a large flock of birds, especially cold-weather ducks and teals on their annual migration from the freezing climate in northern Asia . |